Exponential Moving Average(EMA) which is understood as exponential average. The basis for the EMA is the exponential average of the closing price of a given number of latest candlesticks. The greatest advantage of this line the EMA gives better signals and is more sensitive against the price. It creates a reliable basis for short-term transactions.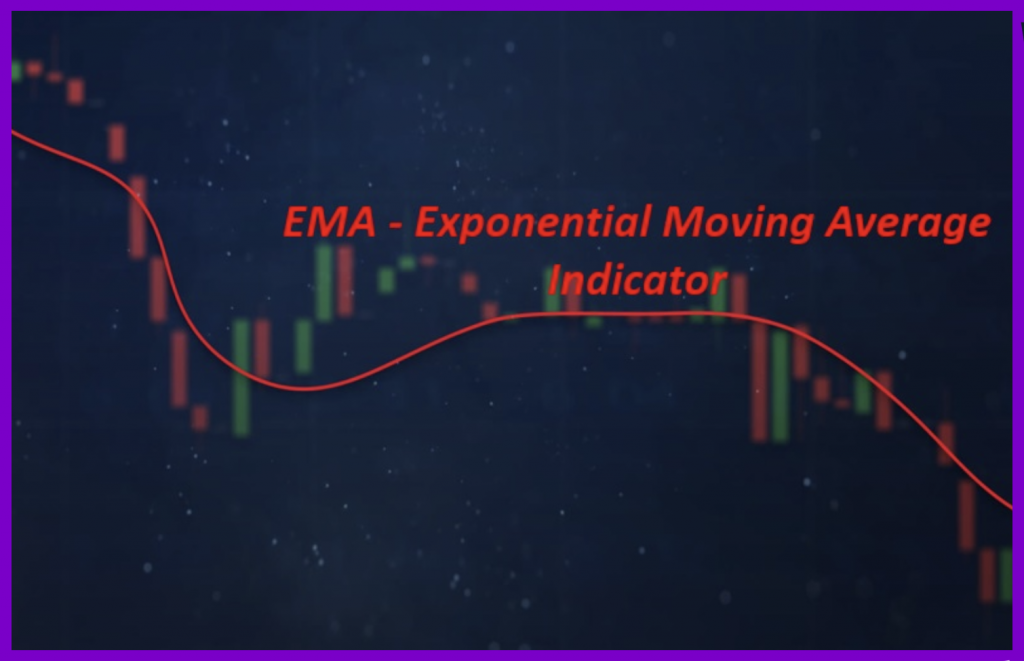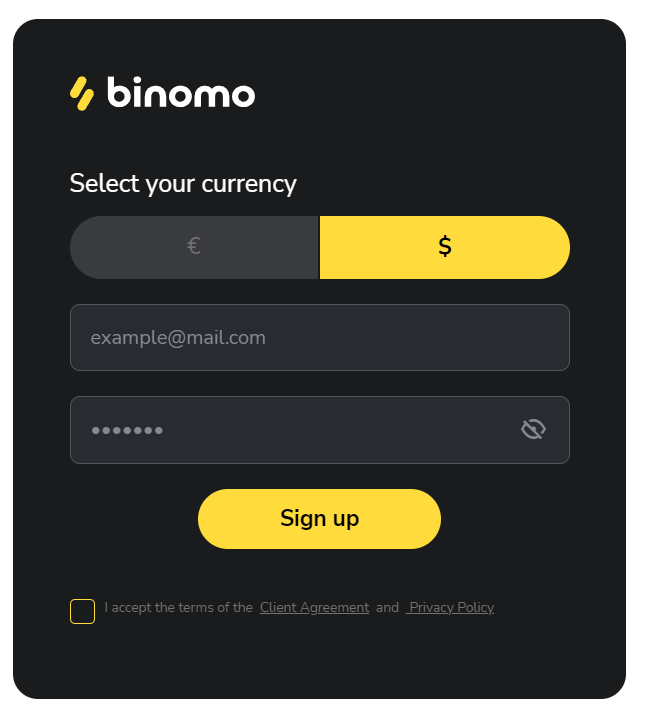 How EMA Works On Price Charts
Like other moving averages, the EMA is the line that runs along the price bar, sometimes above, sometimes below, and sometimes continuously intersects with the price bar. This depends on the different stages of the market.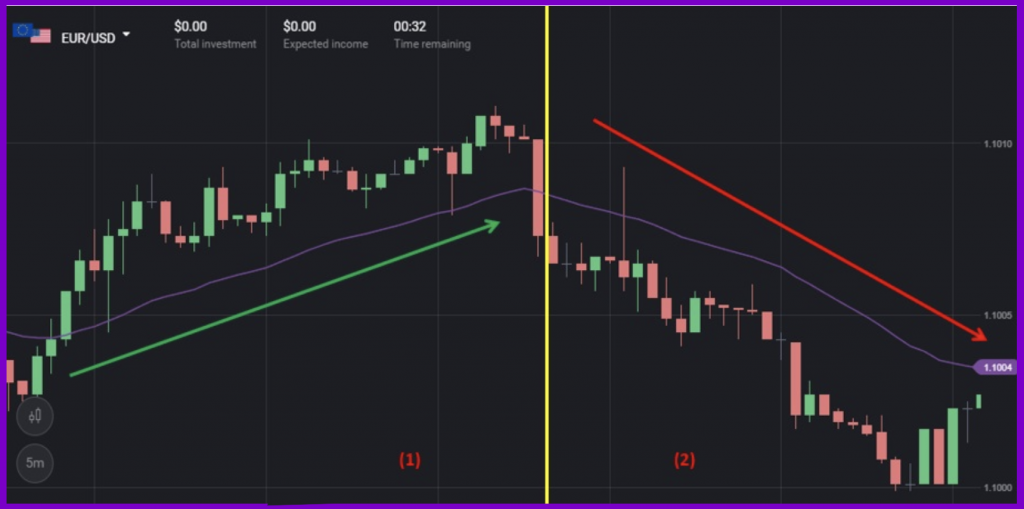 As we can see in the picture above.
Zone (1): The EMA (purple) stays below the candles. It means that the market is in an uptrend.
Zone (2): The EMA (purple) goes above the candles which shows that the market is in a downtrend.
And when the price and the EMA continuously intersect with each other, we have a sideways market.
In Binomo, Traders consider the EMA is a good signal for predicting the trend to enter a trade with high efficiency.
How To Set Up EMA Indicator In Binomo
To set up the EMA line in Binomo, you need to do as follows:
Choose Indicators menu.
Choose MA item (moving averages).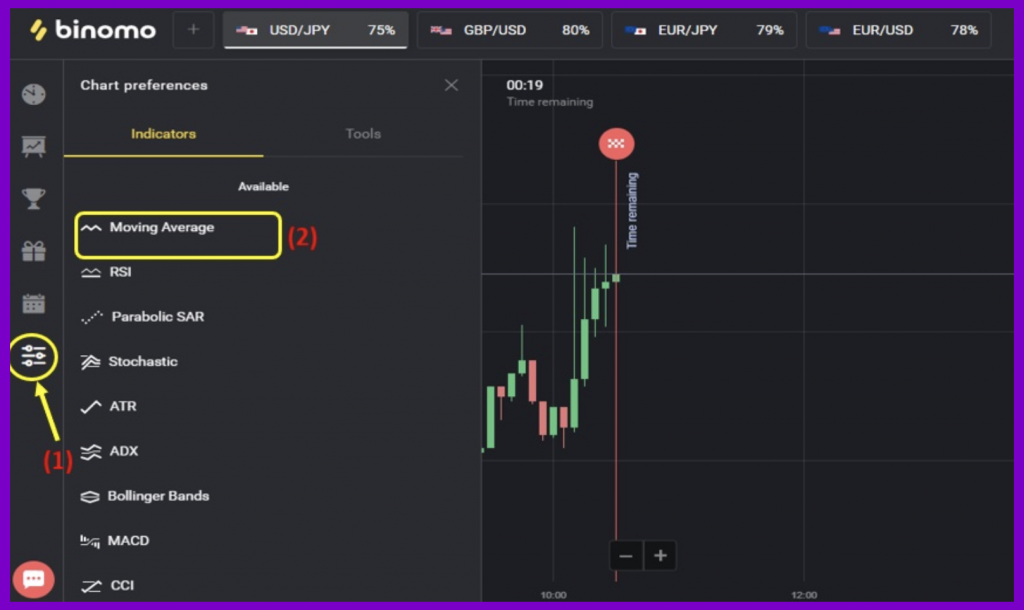 Set the number of candles for the indicator to calculate (30 and 50 are the two recommended settings for your EMA).
Choose the moving average types: choose exponential.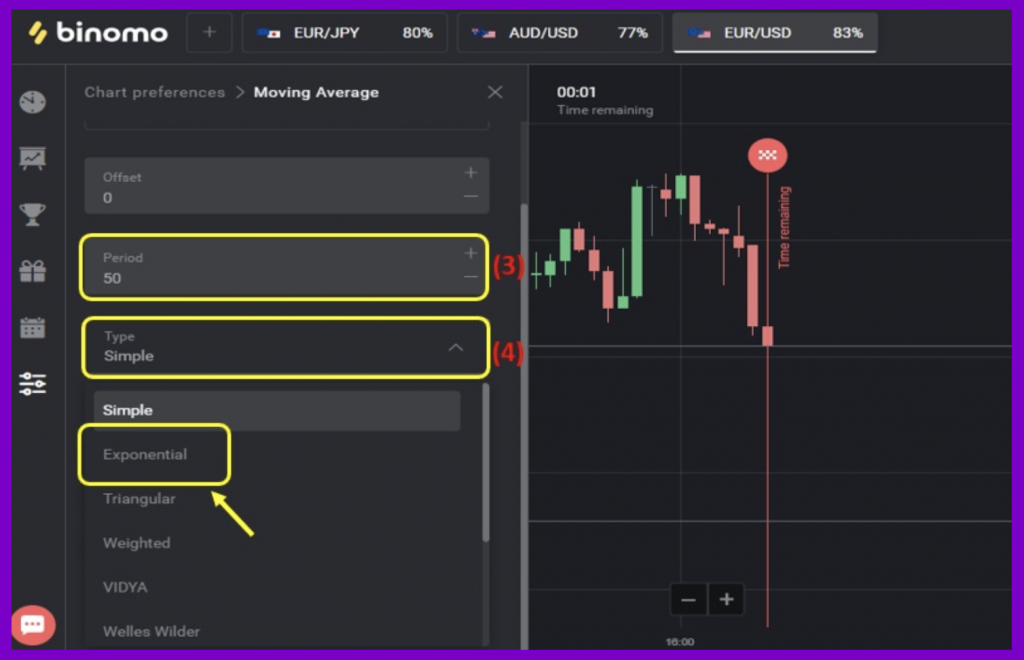 Then, you need to customize the color for the EMA line. Finally, click Apply to complete the setup.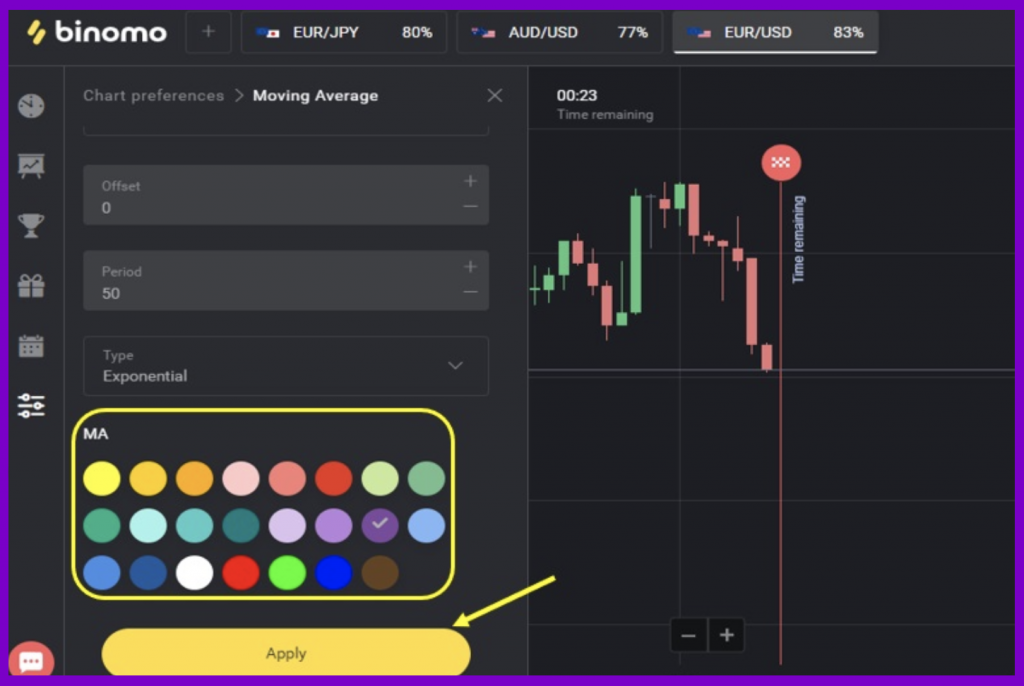 Trading Strategies Using The EMA
We will build some strategies using the EMA where the quick reaction exposed to the prices and the trend signals. In these strategies, we mainly focus on the trend signal and follow this trend.
Requirements: The 5-minute Japanese candlestick chart, the EMA (30), the flexible expiration time between 5 and 15 minutes.
Strategy 1: The EMA Combined With Special Candlestick Patterns (Engulfing, Harami, Tweezer, Etc.)
The dominant signal is EMA In this strategy. You need to observe when the price moves within the trend and test the EMA which creates special candlestick patterns.
For example,
Click UP = the price is in an uptrend and tests the EMA with a bullish reversal candlestick pattern (Bullish Harami, Morning Star, Bullish Pin Bar, etc.).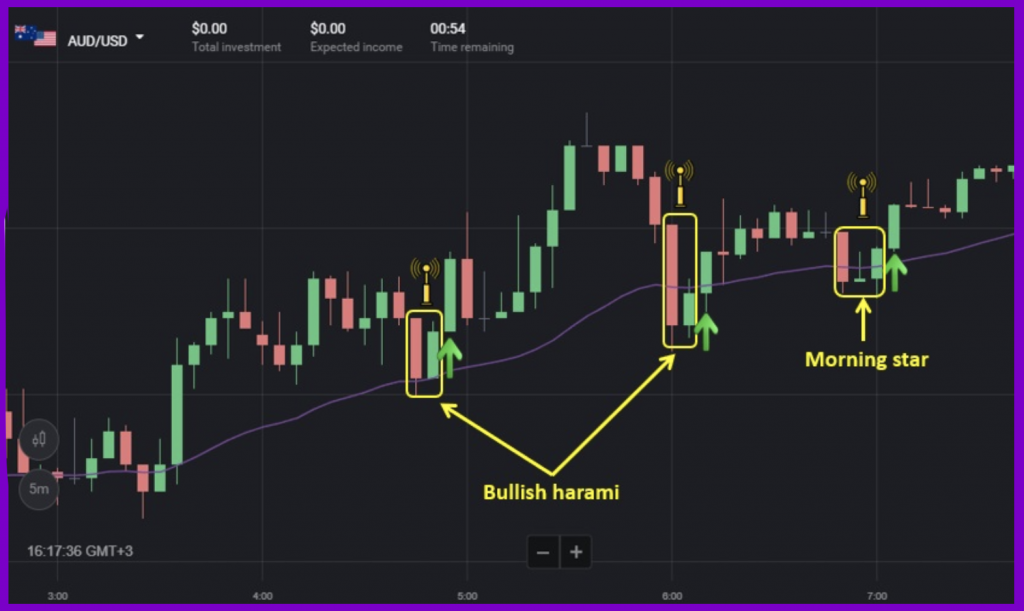 Click DOWN = the price is in a downtrend and tests the EMA with a bearish reversal candlestick pattern (Evening Star, Tweezer Top, etc.).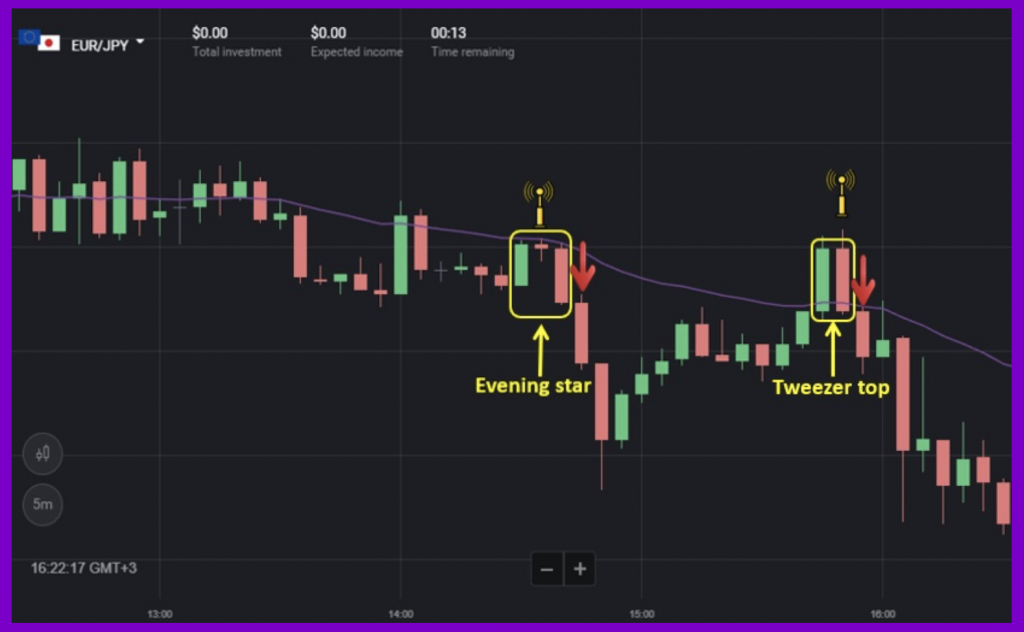 Strategy 2: EMA Combined With Support/Resistance
The prices have strong reactions in Resistance zones (support/resistance). With this strategy, the zones and the EMA themselves will become static and dynamic levels which help us buy or sell.
For example,
UP = the price tests the EMA in the support zone.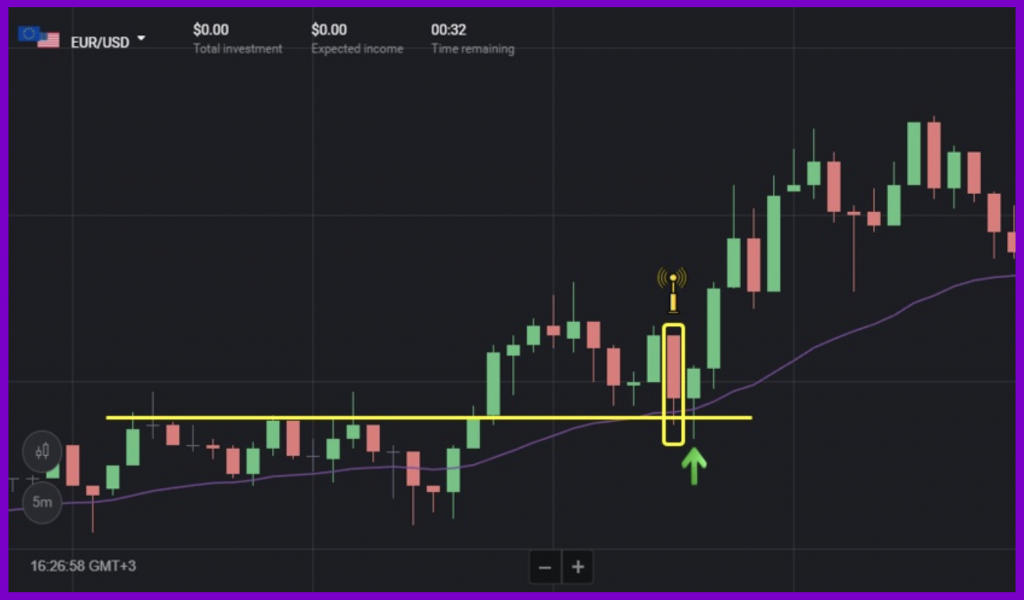 DOWN = the price tests the EMA in the resistance zone.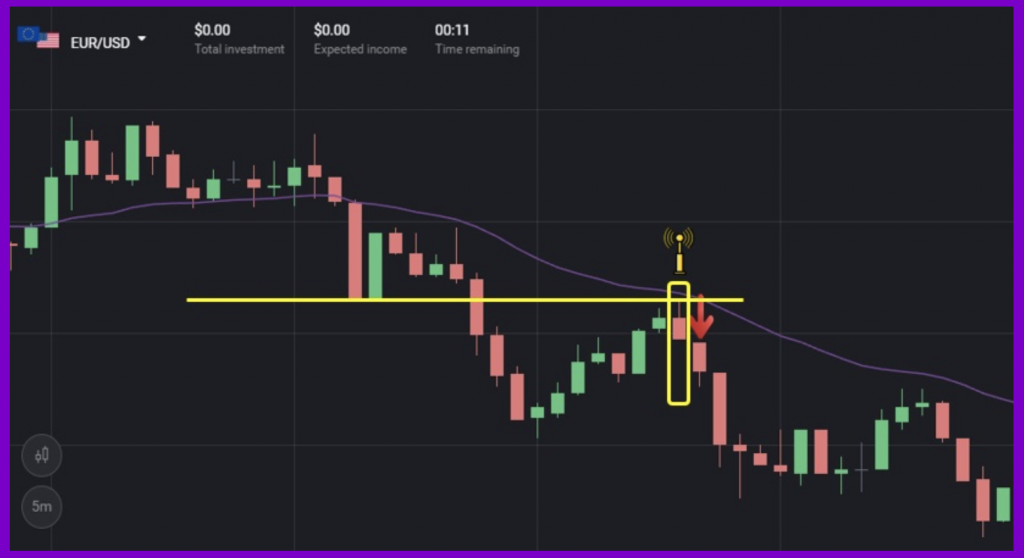 We can see the popularity that EMA brings in trading. Experience the EMA today on a demo account to master this indicator.